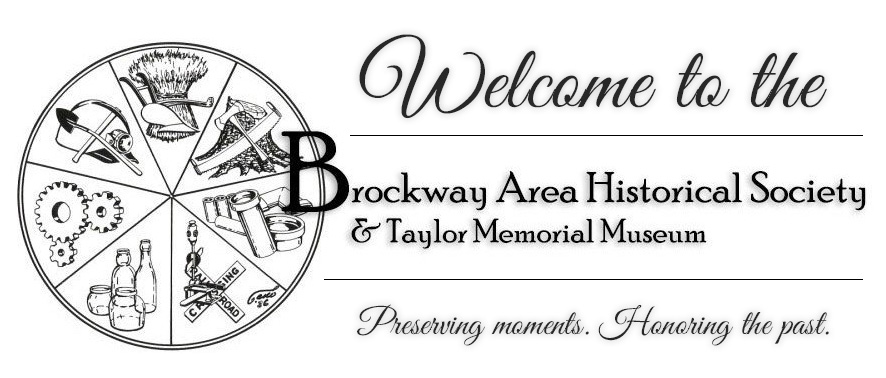 Our Mission
The Brockway Area Historical Society, founded in 1953, is a not-for-profit educational institution whose mission is to promote an understanding of the history of the Brockway, PA area by collecting, preserving, exhibiting and interpreting that history and its relationship to the region, and nation beyond, to audiences of all ages and interests.
Donations & Memorials
Support the mission of the Brockway Historical Society with a donation or memorial.
Search our Archives
Search local genealogies, our veteran database, or news articles from the Brockway Record Newspaper.
Become a Member
See the benefits of membership and submit your application to join.
Visit the Museum
Taylor Memorial Museum location, hours and more.
Shop
Browse our online store.
Read the Blog
Check out the newest entries on our history blog.
Brockway Area History
Uncover the history of our area. Expand the selections below to explore the timeline of events and changes that shaped the world we live in today.
1600 & 1700s
1681 – William Penn received a charter for the colony of Pennsylvania from King Charles II of England.
1755 – Two young women who were abducted by Native Americans were taken through what is now Jefferson Co. and were likely the first white persons to be here.
1768 – By the Treaty of Fort Stanwix, now Rome, New York., Native Americans gave up the right to the land now included in Jefferson County.
1776 – The Declaration of Independence was signed in Philadelphia.
1797 – The first settlers' cabin within Jefferson County was built by the Barnett family in Port Barnett, near Brookville.
1798 – General Wade and his friend Slade became the first white settlers on Toby Creek.
1800s
1802 – John, Jacob, and Peter Vasbinder became the first settlers in what is now Warsaw Township.
1804 – Jefferson County, named for President Thomas Jefferson, then in office, was formed from Lycoming County. The Brockway area was originally in Pinecreek Township in the new county.
1821 – John Smith Brockway purchased the land upon which Brockway would be built at a treasurer's sale in Indiana, Pa.
1822 – James M. and Alonzo Brockway, brothers of John, settled along Toby Creek at the site of Brockway.
1824 – Henry Keys, John McGhee, Thomas Moore, Alexander Osborne and John McIntosh arrived in the Beechwoods and began the Scotch-Irish settlement there.
1825 – The Ceres Road, from Indiana, Pa. to Ceres on the New York state line, was surveyed through Brockway. It was completed in 1828.
1826 – Ridgway Township, Jefferson County, named for Jacob Ridgway, a Philadelphia merchant who owned a great deal of land in western Pennsylvania, was formed from Pinecreek Township. It included the site of Brockway.
1828 – The first school opened in the Brockway area, and A. M. Clarke was the first teacher.
1829 – A post office was established in Brockwayville, and Alonzo Brockway was the first post master.
1830 – The first lumber was rafted from the Brockway area to Pittsburgh, the forerunner of a huge industry later in the century.
1832 – Beechwoods Presbyterian Church was founded with ten charter members.
1835 – Snyder Township, named for Pennsylvania Governor Simon Snyder, was formed from Pinecreek and Ridgway Townships.
1836 – Brockwayville was laid out as a town by Dr. A. M. Clarke.
1838 – Paul Vandevort and Fredrick Hetrick became the first settlers in what is now Polk Township.
1839 – Washington Township, named for the first President, was formed from Pinecreek and Snyder Townships.
1842 – Warsaw Township, named for the Polish city then fighting for a democratic government, was formed from Pinecreek Township.
1843 – Ridgway Township, Jefferson County became part of newly formed Elk County.
1845 – A Methodist Episcopal Church was established in Brockwayville. Its first church building was constructed in 1861.
1849 – English immigrants, Robinsons, Holts and others, began to settle in Sugar Hill, in Snyder Township west of Brockwayville.
1850 – Horton Township, Elk County was created out of Fox Township and was named for a prominent area family.
1851 – Polk Township, named for President James K. Polk, was formed from Warsaw and Snyder Townships.
1857 – Norman B. Lane began lumbering operations at Lanes Mills.
1860 – J. B. Cuneo was the first Italian immigrant to settle in the area.
1863 – Nichols M. Brockway formed a volunteer company, Co. G, 57th Regiment, in the Brockwayville area to fight in the Civil War.
1871 – The Brockwayille Register, the first newspaper in the town, was published by R. O. Moorhead.
1876 – A cube of coal, weighing over a ton, mined from the John Keys farm just west of town was exhibited at the Centennial Exposition in Philadelphia. It was taken from there to the Smithsonian.
1883 – The town of Brockwayville was incorporated.
1883 – The B. R. & P. Railroad began service through Brockwayville.
1884 – Brockwayville Presbyterian Church was founded.
1886 – East Clarion Mines opened at Crenshaw.
1890 – Natural gas came to Brockwayville and was used for street lights.
1894 – Brockwayville Free Methodist Church was founded.
1896 – Telephone service was introduced into Brockwayville.
1897 – Glass was first made in Brockwayville.
1897 – Brockwayville Water Company was formed.
1898 – Roman Catholic Church of St. Tobias, named in honor of Bishop Tobias Mullen, was founded. The original church building was completed in 1904.
1898 – West Clarion Mine opened.
1900s
1903 – A high school was established in Brockwayville.
1904 – Brockwayville Volunteer Hose Company began its service to the community.
1906 – Brockwayville Machine Bottle Company was incorporated.
1907 – Brockwayville Machine Bottle Company's first bottle was pressed, blown and annealed.
1913 – Main Street in Brockwayville was paved with Shawmut bricks. The paving was completed in 1914.
1919 – The first motorized firefighting equipment was purchased by the Hose Company and paid for by public donation.
1921 – Electricity was first transmitted in Brockwayville.
1921 – Brockwayville Publishing Company, Inc. was organized to print the Brockwayville Record.
1925 – Brockwayville had its named shortened to Brockway.
1926 – Brockway Clay Company was founded by Dr. H. E. Kilgus.
1933 – Brockway Glass Company came into existence through the merger of Brockway Machine Bottle Co. and Brockway Sales Co..
1936 – Pennsylvania Game Commission Training School was established in Snyder Township northwest of Brockway.
1938 – Brockway and Snyder Township schools were consolidated.
1941 – Brockway Glass Co. Plant #2 (now #19) was put into operation.
1945 – Brockway Seventh Day Adventist Church was formed.
1951 – The Brockway-Snyder School District was expanded to include Washington Township.
1953 – Brockway Pressed Metals was begun by John Verne.
1953 – Brockway Area Historical Society was founded. It was incorporated in 1970.
1958 – Toby Creek Flood Control project was completed.
1958 – Brockway Area High School on North Street was opened.
1960 – Christian and Missionary Alliance Church was formed in Brockway.
1960 – DuBois-Jefferson County Airport, now DuBois Regional Airport, in Washington Township began commercial operations.
1961 – Taylor Memorial Park was dedicated as a part of Brockway's 125th anniversary celebration.
1961 – Polk Twp. became part of the Brockway Area school district.
1964 – Brockway Glass Company doubled its size with the purchase of six former Hazel-Atlas glass container plants, and its factories were located from coast to coast.
1965 – Brockway Public Library opened. It moved into the Glenn A. Mengle Memorial Library building in 1973. It now holds nearly 40,000 items.
1967 – Toby Creek Watershed Association was formed.
1968 – A new elementary school, which consolidated all the district's K-6 students in one building, opened on North Street.
1970 – The completion of Interstate 80 across Pennsylvania provided greater accessibility to this area.
1973 – Brockway Area Ambulance Association was formed.
1973 – South Horton in Elk County joined the Brockway Area School District.
1973 – Brockway Area Historical Society's Taylor Memorial Museum opened in Taylor Park. It houses the McCauley Exhibit of early lumbering in the Toby Valley and many other displays.
1983 – Toby Terrace, an independent living complex on Main Street, opened.
1985 – Brockway Glass Co., by now Brockway, Inc. and a Fortune 500 company, moved its corporate headquarters to Jacksonville, FL.
1988 – Brockway, Inc. was purchased by Owens-Illinois, Inc.
1991 – The Brockway Glass Annex was opened in the Taylor Museum.
1992 – The Brockway Record ceased publication.
1992 – Highland View Health Care, a nursing and rehabilitation facility opened.
1994 – Use of a new football facility, now Frank Varischetti Field, began.
1994 – Parkside Elder Care, an assisted living complex, opened.
1996 – Brockway Industrial Park was established.
2000s
2002 – Rails-to-Trails opened from Brockway to Ridgway on the former Pennsylvania Railroad line.
2003 – Brockwayville Depot, which incorporated the renovated B.R.&P. Railroad station, opened as a senior center.
2005 – Phoenix Sintered Metals, Inc. began operation after purchasing the former Brockway Pressed Metals.
2006 – "Theater in the Park" organization constructed the American Legion Memorial Stage.
2007 – The Brockway Area Sewage Assoc. expanded service into the townships.
2008 – The Brockway Area Historical Society celebrated the borough's 125th anniversary of incorporation in 1883.
2013- Il Villagio opened as an independent living facility.
2013- BC3@Brockway, a branch of Butler Co. Community College, began classes.
2013- Brockway Center for Arts and Technology offers employment and youth and arts programs.
2014- The Arch Street arch was removed.
2015-
2016-
2017-
2019-
No Results Found
The page you requested could not be found. Try refining your search, or use the navigation above to locate the post.
Thank you for visiting the Brockway Historical Society and Taylor Memorial Museum's new website! We've added some fantastic new features we hope you will enjoy like mobile-compatibility, a more user-friendly database search experience and an online store! Be sure to...
read more